Like Mike! Connect with Mike! Follow Mike!  Subscribe! 
Percussion Master Classes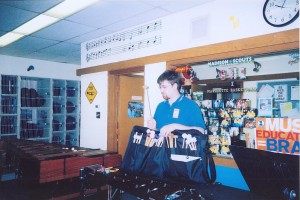 Do you have a percussion section that needs some entertainment?  Do they just need some pointers?  Whatever the reason, Mike loves working with percussion sections and sharing peoples' love for hitting things!  Master classes focus on technique, tone, and musicality for all percussion instruments.  Mike can take more time on instruments that need stress for your players or just give a full tour of the section.
Mike has experience presenting percussion master classes to both middle school and high school levels at public schools in Central Wisconsin and South-Eastern Wisconsin.  Most recently, Mike presented a middle school percussion master class for the University of Wisconsin-Milwaukee Honors Band Festival in 2009.