Like Mike! Connect with Mike! Follow Mike!  Subscribe! 
Drumming and Orff-Schulwerk Workshops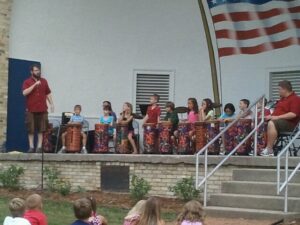 Mike has spent several years hand drumming and leading drum circles.  Mike is Level I certfied in the Orff-Schuwerk Approach to Music Education as well.  These two qualities help him bring any group of people together to make music around a circle of drums!
From 2007-2012, Mike led a self-proposed drumming class that he started in the Port Washington-Saukville School District's summer school program.  He has also led several formal or informal drum circles with friends or in public teaching situations.  In 2007, he presented a drumming piece of his own at for a North Central Wisconsin Orff Chapter Workshop as an opener for presenter Margaret Jerz.