Like me! Connect with me! Follow Me!  Subscribe!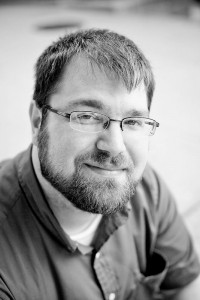 Full Biography
Mike Neumeyer found his voice by studying music by ear,as well as through school. "Singing along with Disney movies and musicals really helped me realize how much fun making music is."  Teachers such as Bill Ross, Susan Champa, Dr. Robert Peavler, and Lucinda Thayer led him along a great path of vocal development.
Singing is a natural strength of Mike's which he later mixed with percussion.  During earlier years he learned drum-set by ear, composing punk rock music with other musicians.  In college, drum-set lessons with Ryan Korb led to percussion lessons with Robert Rosen at University of Wisconsin – Stevens Point (UWSP).  "These steps were a large part of opening my mind and body to different technique and music making."
While studying with Robert Rosen, Mike found keyboard percussion. Specifically, marimba was the beautiful instrument that inspired new works.  Mike started writing compositions with the to primary instruments he knew: Marimba and voice.  This is a powerful combination that Mike will continue to explore.
In 2007, he graduated with a Bachelor of Music Degree from The University of Wisconsin-Steven's Point, where he studied voice, percussion, and music education with Dr. Robert Peavler, Robert Rosen, and Dr. Judy Bond, respectively.  Dr. Judy Bond inspired Mike to develop his knowledge in Music Education, specifically in the Orff-Schulwerk method.  Another strength in his teaching experience was student teaching and co-presenting with renowned teachers Margaret Jerz and Doris Blanche.  During this time, Michael also studied conducting with Brendan Caldwell, improvisation with Mathew Buchman and composition with Dr. Charles Rochester Young.
In 2011, Michael earned a Master's of Music Degree in Instrumental Conducting from The University of Wisconsin-Milwaukee where he studied with Dr. John Climer.  While at UW-Milwaukee, Michael also studied percussion with Carl Storniolo and composition with Dr. Keith Carpenter and Steve Nelson-Raney.
As a composer, Michael has written many works for percussion instrumentation with one unique focus being marimba and voice, making a performable entity for one person.  His composition for marimba and voice, The Power of Music, was used in a documentary called In Pursuit of Passion, which aired in Europe in July of 2009.  His ensemble works have been performed by The University of Wisconsin-Steven's Point Percussion Ensemble, The University of Wisconsin-Milwaukee Percussion Ensemble, and various performing groups in Wisconsin, Minnesota, and Ohio.  His most recent percussion ensemble composition, The Questo Collection, was commissioned by Robert Rosen for The UW-Steven's Point Percussion Ensemble in 2010.  Michael's collaborations with dance included projects with choreographers Pamela Luedtke, Ann Mosey, Sandy Beneke, and Tara Koch.  These projects included composing music for a play written by Kyle Bostian called To(ta)lerance in 2005, having choreography assigned to his own music and performing with The Point Dance Ensemble in 2008, and composing a graphically notated work for dancer, musician, and poet in 2010.  Mike wrote a duet for euphonium and marimba called Mikayla. This work was premiered with euphonium player, Steve Darling, at University of Wisconsin-Milwaukee.  Most recently, Mike wrote a percussion ensemble work for The Adna Percussion Ensemble in Chehalis, WA, a work that was commissioned in 2013 and premiered in 2014.