Like Mike! Connect with Mike! Follow Mike!  Subscribe! 
Click here for free Mike Neumeyer brochure!
Private Lessons – Marimba Presentations – Conducting Clinics – Percussion Masterclasses – Drum and Orff Workshops – Music for Special Occasions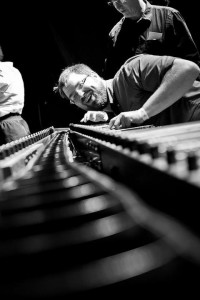 Mike Neumeyer teaches, composes, and performs music.
Mike performs with his marimba or keyboard for private parties, weddings, and other events.  This instrument makes great background music for any occasion…
Composition is a great tool of collaboration – contact Mike if you'd like him to write anything for you!
And please read on for more information about the teaching experiences Mike has to offer!
Contact him personally on the "Contact" page.
Private Lessons:

Mike teaches:
– percussion – marimba – vibraphone- piano – trumpet – guitar – voice – composition – music theory – recording –

Private Music Lessons available Online!  (contact Mike)  Private Music Lessons in Oak Creek, Cudahy, Franklin, Brown Deer, Mequon, Southeastern Wisconsin and the Milwaukee Metropolitan Area!
Check out Mike's testimonial page! http://mikeneumeyer.com/testimonials/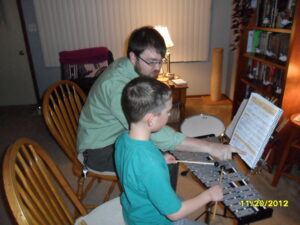 With a background in general music education as well as a college experience with high standard performance, Mike can teach someone who has never seen music in their life or a student who is looking for lessons at a higher level.
Marimba Presentations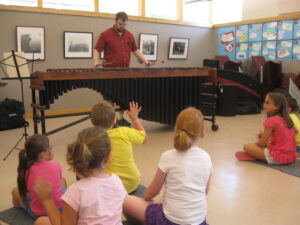 There are not many musical sounds that are more natural and pleasing than bars of rosewood being played by soft yarn.  This is what the marimba achieves. This instrument is also very visually appealing, whether it is being played or not.  The five-octave marimba, standing 3-4 feet high and stretching just beyond 8 feet wide, can bring an audience in immediately.
Whether the students are in high school or kindergarten, the marimba is visually and sonically appealing to them.  For younger grades Mike presents the marimba as an entity in itself, teaching them about the history of the instrument, the mechanics of how it works, and engaging the students in participatory activities using movement, listening and singing.  For students in band programs, Mike focuses on playing technique while incorporating as much of the marimba possible for the circumstance at hand.
Conducting Clinics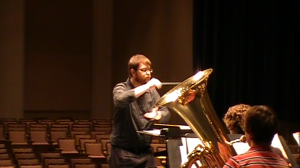 Wouldn't it be cool to have your students or players experience another baton?  Mike continues to build experience working with groups in WI schools.  "It is so fun to work with fresh players and it always gives me positive, high energy!"  Sometimes Mike brings his marimba and works with general music students and percussionists; then jumps on the podium for a run through of what the band is working on…
Percussion Master Classes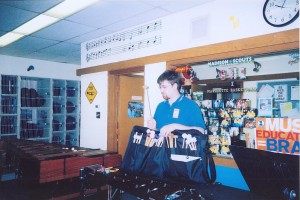 Do you have a percussion section that needs some entertainment?  Do they just need some pointers?  Whatever the reason, Mike loves working with percussion sections and sharing peoples' love for hitting things!  Master classes focus on technique, tone, and musicality for all percussion instruments.  Mike can take more time on instruments that need stress for your players or just give a full tour of the section.
Mike has experience presenting percussion master classes to both middle school and high school levels at public schools in Central Wisconsin and South-Eastern Wisconsin.  Most recently, Mike presented a middle school percussion master class for the University of Wisconsin-Milwaukee Honors Band Festival in 2009.
Drumming and Orff-Schulwerk Workshops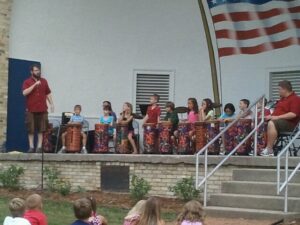 Mike has spent several years hand drumming and leading drum circles.  Mike is Level I certfied in the Orff-Schuwerk Approach to Music Education as well.  These two qualities help him bring any group of people together to make music around a circle of drums!
From 2007-2012, Mike led a self-proposed drumming class that he started in the Port Washington-Saukville School District's summer school program.  He has also led several formal or informal drum circles with friends or in public teaching situations.  In 2007, he presented a drumming piece of his own at for a North Central Wisconsin Orff Chapter Workshop as an opener for presenter Margaret Jerz.
Music for Special Occasions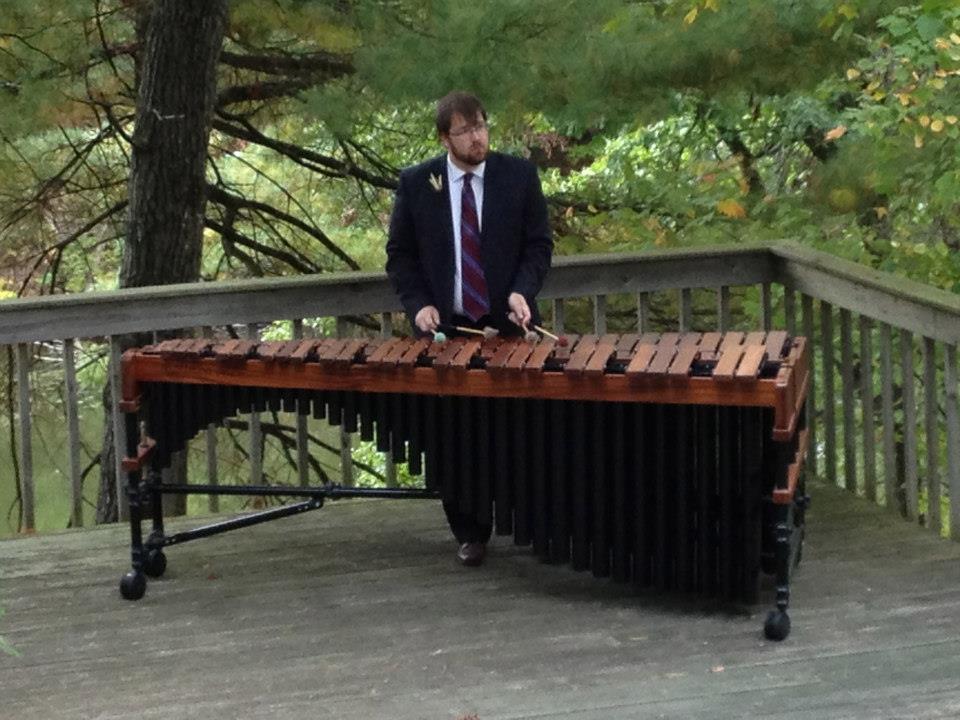 Mike specializes in using a piano/keyboard or the marimba to create a soothing background setting for any occasion.  With many original compositions and audience favorites to pick from, the listeners are given a familiar tapestry to fall behind their conversations.  If folks are inclined, they may watch Mike; especially when the marimba is present!  When given preparation time, arrangements of certain pieces can be requested.
Full Biography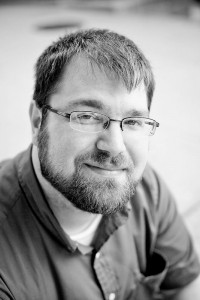 Mike Neumeyer found his voice by studying music by ear, as well as through school. "Singing along with Disney movies and musicals really helped me realize how much fun making music is."  Teachers such as Bill Ross, Susan Champa, Dr. Robert Peavler, and Lucinda Thayer led him along a great path of vocal development.
Singing is a natural strength of Mike's which he later mixed with percussion.  During earlier years he learned drum-set by ear, composing punk rock music with other musicians.  In college, drum-set lessons with Ryan Korb led to percussion lessons with Robert Rosen at University of Wisconsin – Stevens Point (UWSP).  "These steps were a large part of opening my mind and body to different technique and music making."
While studying with Robert Rosen, Mike found keyboard percussion. Specifically, marimba was the beautiful instrument that inspired new works.  Mike started writing compositions with the to primary instruments he knew: Marimba and voice.  This is a powerful combination that Mike will continue to explore.
In 2007, he graduated with a Bachelor of Music Degree from The University of Wisconsin-Steven's Point, where he studied voice, percussion, and music education with Dr. Robert Peavler, Robert Rosen, and Dr. Judy Bond, respectively.  Dr. Judy Bond inspired Mike to develop his knowledge in Music Education, specifically in the Orff-Schulwerk method.  Another strength in his teaching experience was student teaching and co-presenting with renowned teachers Margaret Jerz and Doris Blanche.  During this time, Michael also studied conducting with Brendan Caldwell, improvisation with Mathew Buchman and composition with Dr. Charles Rochester Young.
In 2011, Michael earned a Master's of Music Degree in Instrumental Conducting from The University of Wisconsin-Milwaukee where he studied with Dr. John Climer.  While at UW-Milwaukee, Michael also studied percussion with Carl Storniolo and composition with Dr. Keith Carpenter and Steve Nelson-Raney.
As a composer, Michael has written many works for percussion instrumentation with one unique focus being marimba and voice, making a performable entity for one person.  His composition for marimba and voice, The Power of Music, was used in a documentary called In Pursuit of Passion, which aired in Europe in July of 2009.  His ensemble works have been performed by The University of Wisconsin-Steven's Point Percussion Ensemble, The University of Wisconsin-Milwaukee Percussion Ensemble, and various performing groups in Wisconsin, Minnesota, and Ohio.  His most recent percussion ensemble composition, The Questo Collection, was commissioned by Robert Rosen for The UW-Steven's Point Percussion Ensemble in 2010.  Michael's collaborations with dance included projects with choreographers Pamela Luedtke, Ann Mosey, Sandy Beneke, and Tara Koch.  These projects included composing music for a play written by Kyle Bostian called To(ta)lerance in 2005, having choreography assigned to his own music and performing with The Point Dance Ensemble in 2008, and composing a graphically notated work for dancer, musician, and poet in 2010.  Mike wrote a duet for euphonium and marimba called Mikayla. This work was premiered with euphonium player, Steve Darling, at University of Wisconsin-Milwaukee.  Most recently, Mike wrote a percussion ensemble work for The Adna Percussion Ensemble in Chehalis, WA, a work that was commissioned in 2013 and premiered in 2014.