"Kollaboration is Key"
It is absolutely wonderful to have music that I write come to life when it is played by players who enjoy it.  This makes the audience enjoy it and the conductor enjoys it.  Did I mention I enjoy it?  How does this happen?  Part of it in my opinion is writing music that comes from the heart and that has memorable themes and moments.  What else?  Collaboration.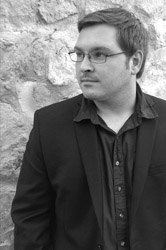 I worked on a marimba/euphonium work three years ago with Steven Darling, up and coming euphonium player and winner of numerous contests and awards.  It was great to be able to ask Steve for his feedback and make sure the piece was idiomatic for his instrument, fun to play, at the right level for him at the time while also giving some adventurous challenges.
One of our premeire performances of our collaboration, "Mikayla," has been gaining life on YouTube and folks looking for marimba/euphonium material are showing interest!  Recently it was performed by Don Palmire and DJ Palmire at The United States Army Band "Pershing's Own" – Percussion Plus Concert!

The reason these works are fun to play is because the players are consulted to make sure it ends up a mutually beneficial music making situation for all involved!
Oak Creek High School Percussion Ensemble rocks a brand new work written for them!
I was working with Oak Creek High School Front Ensemble during last year's marching season… (in which the band did win 1st at State Competition in our division 🙂 🙂  and anyways, I did tell the pit ensemble I was writing a piece and I had them in mind.  "Would you be interested?" I asked.  The next time I brought i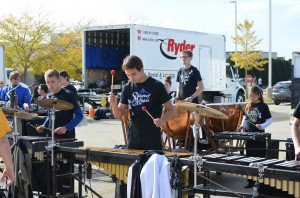 n a sample of what I had written in one night; they where HUDDLED AROUND MY PHONE!
That is all I needed to see.  The next few composition sessions were full of insightful decisions and themes representing inside jokes with the ensemble.  I knew their playing level from working with them, so writing for them was very fluid.  Then, I was able to widdle down even further with details from them during rehearsal!  Again, collaboration 🙂
So, along with The Oak Creek High School Percussion Ensemble commissioning and premiering "The Adventures of Megan Dutmeyer," they also won the honor to play it again at State Competition at University of Wisconsin – Parkside!  That is happening tomorrow and I saw them today.  They are ready to rock.